Week notes: August 7th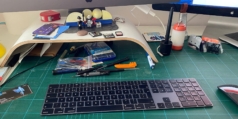 Failed to write Friday's notes on Friday, so here we are on Monday a little late. Some noteworthy things during the week:
Urgh, that Beruit explosion. Fascinating to watch, initially - shortly followed by the images of the horrific consequences of it.

TV watching! We have much free time but we get 1hr a day which we normally fill with TV shows. Thought I'd mention what we've enjoyed recently. After we finished watching the entirety of Community (a series I failed to watch for ten years), we started watching Sharon Horgan and Aisling Bae both being excellent in the very funny This Way Up. Bonus points for ~20 min episodes. We're now enjoying The Great, quite a more-ish, often silly comedy loosely based on the events leading up to the reign of Catherine The Great.
Fixed Naomi's Macbook Air. Replaced the battery and the screen (which Jules broke by shutting the lid on a book 🤦‍♂️).
Craft CMS 3.5 came out - includes an excellent redesigned field editor and a bunch of improvements. More great work from the Craft team.
Sent out the Electric Brighton Summer newsletter.
Was super pleased to see that hosted Craft CMS service, Servd, announced their plan to go green in a previous blog post and a product page outlining their actions; choosing more renewable providers for their data centres and storage partners. This was something I approached Matt about earlier in the year when I was on the hunt for a lower carbon solution for my current client site. Pleasing to see!
Upvoted Roger Schebri's beautifully made Safe from "The Room" on the LEGO Ideas site.