We don't have much time. We just don't have much.
This month started on June 1st when I visited my brother Charlie in hospital. The previous week, he had been admitted to A&E, after his breathing had deteriorated rapidly. I hadn't seen Charlie for some time and his lung condition, Idiopathic Pulmonary Fibrosis, had worsened considerably in recent months. I visited him in the High Dependency Unit at The Royal London Hospital, where there were numerous types of ventilators and breathing equipment that he was using on rotation to aid his breathing. Although I knew it would be difficult to see him with such difficulty breathing, I was in no way prepared, as I hadn't fully understood the level of decline in the condition of his lungs and how difficult things were for him.
Despite his awful situation, we managed to share some stories and even a few smiles. He spoke of his recent political work, talking about how when he stood for the Green Party in Islington South & Finsbury for the 2015 General Election, many people thought it was pointless for the Greens to stand in Islington. Seven years later and the Green Party recently celebrated their best-ever local election result in Islington - he spoke with such pride of how his work contributed to this success. We talked about my move to Devon, he really enjoyed seeing the lush green photos of the countryside, particularly in the setting of the somewhat drab hospital walls.

Charlie was very physically fit - it was only 12 months ago that he was cycling 35 miles a day. Since learning about his lung condition he had really taken it upon himself to live a fuller life and was doing so much - you almost wouldn't think he was living with the condition. At the end of last year he successfully crowd-funded a portable oxygen concentrator to make being active easier - and on he soldiered. He spoke himself of how the condition had accelerated, taking not just others by surprise but even himself. He was quite pessimistic about his situation, which I found disarming. Generally, I like to be able to bring a positive outlook whenever I can. There was still talk of the possibility of a lung transplant in July, so I tried to speak positively, tearfully saying "Come on Charlie, you can do this! Be strong", thinking that July wasn't too far away and there was a chance things could turn around. Our time was coming to an end and I gave him a big hug and we said our farewells. As I left, I stood at the end of his bed and looked him in the eyes, gave him a big smile and kissed both my hands towards him, outstretched.
I thought that there was a chance it might be the last time I saw Charlie, even though in my head I was already planning when I could next be in London to see him again. I had no idea I would be the last person to visit him. The next morning Leo phoned to tell me he had passed away in the night. I had been with him just hours before. The words I spoke to him about positivity and being strong instantly felt ridiculous, as I finally understood the situation he had been in. What a precious time I had been able to share with him on that day.
When I saw Charlie I was desperate to help in any way I could. One of the things he had asked me to do was to help retrieve a video, of the speech he gave at the unveiling of his LBGTQ+ Heritage Plaque at The Lamb pub on Holloway Road from his friend Rob (thank you, Rob!). He wanted to watch it again as he said he thought it was one of his favourite speeches and one that he was most proud of. Of course, I stupidly didn't do this immediately and so he never got to watch it again. But I've published it here for others to enjoy. It's lovely to watch because it's just so full of Charlie.

Life as a parent of three is busy, but I really wish I had seen Charlie more in recent years. I loved hearing him talk about politics - always firm in his beliefs, his principles and infectiously passionate about, well - pretty much all of it. It was a real treat to talk about politics with Charlie, I'd always come away feeling like I'd learnt something and with just that little bit more energy for it (remarkable when politics these days is very draining). I will always remember Charlie as someone who really knew how to live life to the full, being active, always going somewhere, doing something new, seeing family and friends, and investing time and energy in his passions. Always making the most of the precious time we have. He was great at life!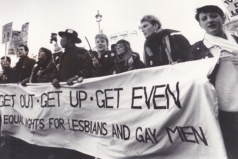 It's been a whirlwind month. Jemima has been over with her family staying with us in Devon, which has been a real treat, whilst also juggling work and Glastonbury somehow happening in the middle of it all. I spent much of the festival teary and thinking about Charlie - he was particularly on my mind when I saw the punk rock band Amyl and the Sniffers. Charlie was a punk back in the original punk movement and I think he would have enjoyed the set and its sometimes funny, sometimes political messages, loudly bellowed out by the band's magnetic and fiercely energetic lead singer Amy Taylor.
This Friday is July 1st and Charlie's funeral and I'm very much looking forward to seeing all my Kiss family together. Although the month will have come full circle, I have the closing sign-off from Roisin Murphy's stunning Glastonbury performance echoing through me:
---