Two months with an electric car
I spend a lot of time thinking about electric cars and I have done for some time. I've been wanting to make the jump and switch to driving an electric car ever since I got my driving license. Which was only two years ago. Tesla's success in making electric cars desirable and helping to bring them in to the mainstream has a lot to do with this.
We went to look at a BMW i3 at the dealership summer 2015. I'd done a fair amount of research and the i3 was appealing as it had a range extender; basically an electric generator that you can spin up when the battery is low and get another 60 miles of range from a small tank of petrol. This helps to reduce any range anxiety - if you can't find an EV Charge station when you're out and about and running low, then you have a backup plan. The chap at the sales desk was a nice young man but wasn't too great at selling us the car. For example, it wasn't until about 45 minutes in, and after the (very enjoyable) test drive that he mentioned the materials used in the car. Raw renewable materials and recycled plastics make up a significant amount of the interior and exterior; interior textiles are made of up to 100% recycled polyester. The factory in Leipzig where the BMW i cars are made also aims to operate with a zero carbon footprint, having on site electricity generation through wind turbines. This was all really interesting, and somewhat of a surprise with some of the preconceptions I perhaps had about BMW as a company.

We didn't buy a car that day, but I was intrigued. It was clear that we basically couldn't afford one - they were out of our price range brand new. I made a spreadsheet to calculate the average depreciation of the car vs the value of the loan over time which helped us calculate how much we could borrow to ensure that we always had equity in the vehicle. Then I waited, checking the Auto-Trader second hand market twice a week, for the next year. In late August, an i3 popped up with 44,000 miles on the clock and it was just about in our budget. Due to the sellers circumstance, we had to commit to buy within a week, so there was a bit of a rush to sort things out, but we did it!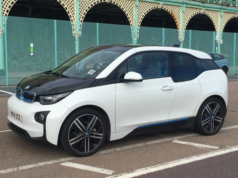 Well, that was two months ago. Before we bought the car, we agreed to basically think of it as a trial. It seemed like a pretty big change in lifestyle and so we said to ourselves; if the electric car plan didn't work out, we'd simply accept defeat, sell it and move on. But it's been going pretty well!
I'm still not completely convinced on the odd design (I have a pet hate of the fact that they opted to keep the "iconic" BMW headlights / grille design in a completely new, chance-for-a-new-start side project like BMW i) but it is a lovely car. It has a spacious interior, easy access to rear (child) seats with reverse opening doors, keyless entry never gets old - no more fumbling around with keys. It's connected to the internet, so I can control it remotely (turn on the heating, preconditioning it for a scheduled time of departure), check on charge status - I can even connect it to IFTTT. Plus, it's really fun to drive. Fast acceleration, calm, peaceful interior thanks to no engine noise. It feels like the future, and well - it is.
I've been logging fuel expense since then and did some quick calculations. We've travelled a total of 1027 miles, spent £9.75 on petrol, £35.75 on fast-chargers and approximately £21.54 on charging at home from 100% renewable energy sources at 15.3p per kWh (I've since switched to Bulb.co.uk so this is now 11.51p per kWh, still from renewables). That's £67.04, so we've been achieving 6.5p per mile. That's pretty good! We were hoping to save money and we definitely have - it has halved our fuel bill. Plus, we've paid over-the-odds for some of the fast charging. We're a bit more savvy now so that number should go down over time.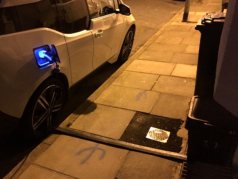 Some notes on charging
If you have off street parking then charging just won't be an issue. If not, it's all about fitting it in to your schedule. We try not to go out of our way - so, we do it in a 20 minute coffee break, or when doing the weekly shop etc.
There are loads of different systems and they're mostly all confusing to use. There is need for some serious improvements in their UX design.
ChargeNow (the BMW partnered charging network) just teamed up with ChargeMaster who run the ChargeYourCar ("CYC") network. So as a new member there is now 6 months of free [rapid] charging. All our local rapid chargers are CYC network, so this was absolutely fantastic news and it basically happened just a few weeks after we got the car. If you get an i3, new or second hand, make sure you sign up for ChargeNow!
We don't have off street parking, so we can't apply for a free home charger grant. We have a more complicated charging setup as it requires us to park outside our home (which thankfully in our dead-end street isn't actually too hard) and then ensure that any cables on the pavement are not in breach of Section 162 of the Highways Act. I'm still not entirely comfortable with it, but I do my best to ensure that the cable is not a trip hazard by using a rubber cable protector. We don't charge at home that often and when we do, it's overnight so as to cause the least inconvenience to pavement users. But it is by far the cheapest option compared to the paid charging services.
Brighton charging points are in the process of all being upgraded and by the end of the year, they will all have 7kW options. This is great news. Plus some charging spots offer free parking in the centre of town which is amazing.