My daughter, Uma
My daughter Uma was born this year, on September 3rd.
As a father, or perhaps more simply as partner to a mother, the pregnancy (otherwise known as period of time when the woman you love sacrifices her body and 9 months of her life to create a new human being in the image of you both) ...Can be an experience that's hard to connect with. It is of course, different for everyone as well as being different in each circumstance. But I'll never be able to appreciate what that process is like for the mother. There's plenty to help with and support to offer; but a father's interaction and connection with their child, I think comes properly for the first time when they enter the world. This was our second child, so the whole experience is familiar, which for me meant less uncertainty and slightly less worry throughout the pregnancy.
It is a completely incredible, bizarre and miraculous thing, creating a new life. It culminates with seeing the birth of your child. This is an experience that connects with the very centre of your being. There's an explosion of emotions which erupt in your core; after which point you are forever changed.
I wasn't really sure what to expect from Uma's birth. Second child, second birth, I didn't give it as much thought - I had every confidence in Naomi, there had been no issues with baby during the pregnancy. I had spent most of the time working very hard in spare time, finishing a wealth of work on our house; for us to enjoy with our new, bigger family. I hadn't stopped to think about the birth and her arrival. I had an idea of what that experience would be and like many things in my life, I didn't dwell on thinking about it but rather would process it when it happened.
The due date was the Saturday and when there wasn't much movement on the Friday, I hadn't been worried. There were regularly days when the baby had moved less. Normally these sorts of days were sandwiched by days with plenty of movement and she had been moving lots the day before. Besides, on the Wednesday there was a full checkup with a nurse and heartbeat check where everything was fine. So when on Saturday morning, Naomi had gone in to the hospital to check everything was ok, I still wasn't worried - it would just provide some reassurance that everything was fine and we would get on with the day - we were taking Rocco swimming.
That reassurance never came though. Naomi phoned me from the hospital and said straight-up that they couldn't find a heartbeat and that she was now waiting for a second opinion. At that moment I felt very flat. I knew that was it. Finding a heartbeat is binary, if there wasn't a heartbeat and there wasn't a frenzy of activity, then there wasn't much hope. Yet it hadn't hit me, I just felt flat, unaffected. As I bundled Rocco in to the car and drove to the hospital, it slowly started to dawn on me and I processed the situation, thinking of all the various possible outcomes. Throughout the pregnancy I had felt disconnected, I hadn't built up a connection to the baby. Now the situation felt almost distant.
Once we were at the hospital Naomi and I shared our sense of shock together, both of us were in another place. We waited for the consultant to arrive in order to confirm she had died. For me this was further confirmation that there was nothing to be done; we wouldn't be waiting around if there was any chance at all of saving her. We waited for what seemed like forever, during which time Naomi's sister arrived to take Rocco, eventually the consultant arrived to confirm that she had died. We processed the news in stages, and each stage starts off seeming like a mountain but before you know it, you've crossed that mountain. Finding out that if your baby has died during pregnancy and that basically nothing changes with the process of labour and birth was a particularly hard concept to comprehend. It of course makes complete sense when you think about it, but when someone has just told you that your baby has died - the idea of giving birth to her seemed like an insurmountable task. I felt at that point amazed that no one had ever spelt this out in big letters. We both just wanted to press fast forward and were still in shock, although the weight of reality was starting to sink in.
The labour was everything to think about leading up to the birth, so I hadn't contemplated the moment when she would arrive. I didn't know what I would think or feel. I still had this sense that I hadn't connected with the baby, and a simultaneous sense that because I lacked a connection to her, I wanted it to all be over.
Uma was born at around 11.30pm. It hit me like a truck. I have never experienced such raw emotion. The thing I wasn't prepared for was the overwhelming force of love for her. Any fear of not connecting evaporated. I instantly loved her with all my heart. She was perfect, full of such beauty. Yet whilst I felt such joy, grief tightened all over me. It pulled me away. "You can't have this, she isn't in this place".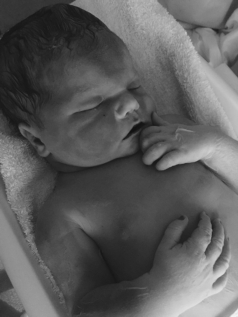 She was a baby, fully formed and ready for life. She was warm. She had hair, tiny fingers with little finger nails, rosy lips and those tiny fine hairs on her face. Also those tiny white speckles in the skin around her nose that newborns have. Wrinkly feet and chubby legs, she was so heavy! Weighing 9lb 8oz, she made Rocco's 8lb 3oz seem small. She had everything she needed to begin life, and yet she had none. She came so close. If she had been born 48 hours before she would have had life.
Like everything that was happening we were learning as we went along. When we were told before the induction that following the birth, there would be the chance to spend some time with her, it felt like a strange thing to do. But when that time came it felt like the most natural thing to do. The moments that we spent together with her are now the most uniquely precious moments in my life. We held her, we shared her. We smelt her hair. We squeezed her and touched her face and hands. We studied every detail of her. Despite such devastating grief, in each of us there was happiness at the arrival of our new daughter.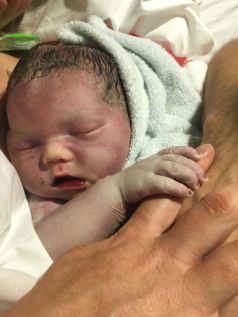 We dressed her in the clothes from her hospital bag - an outfit that Naomi had made for her. We wrapped her up in blankets, she looked like most newborn sleeping babies do. Occasionally she bled a little from her nose and we would wipe it away. This was upsetting to experience but in a weird way it allowed us to tend to her, which felt like a tiny piece of something we could give her.
Naomi's parents visited at midnight, allowing us to share our grief but also allow Uma to become part of our family, our reality in a more concrete way. It is a tremendously difficult experience to share but is unifying as a family.
These moments of sharing her together at times felt like a twisted reflection of reality. I felt echoes of Rocco's birth. Well, everything I was seeing and feeling was an echo of the experience of Rocco's birth, again but ever so different.
As we spent time with her, she slowly started to lose some of her warmth. It was getting late and we needed some sleep. Our midwife had brought in a cold-cot for her, another thing we learnt about that day. It's exactly that - a cot with a refrigerated base, to keep her cool and as intact as can be.
We had four or so hours sleep and when we woke up, wanted to spend more time with her. Picking her up from the cold cot was much harder to do now. She was more clearly not there, tiny things about her were changing slowly. At times when we were with Uma, it felt like we were "pretending" that she was ok, acting like she was a regular baby alive and well. This grew with time and it became harder. But it was incredibly important to be with her and we are so glad that we did, it was the first and most important step in coming to terms with what had happened.
We spent half of Sunday with her. Naomi's sister and brother-in-law visited, which again helped us cement further this event in our still-changing reality. We have had a daughter, she's not alive but we have had a daughter and she is part of our family story.
Sometime in the early afternoon we had to say goodbye to her. We knew the moment was coming, looming ever larger. At times if felt like we wouldn't be able to do it. When the moment came it was incredibly hard. Both Naomi and I had a few quiet words with her alone. We said goodbye to her together and handed her to Kerry, our then midwife. I need to point this out very clearly - but what an amazing thing to do for someone else - let them hand over their deceased baby to you. This was, in a way, lovely; we got to leave her with someone, not alone in a cot, but in someones arms. Overlooking the view along the coast with the sea.
Uma showed us how fragile life is. Not how close life is to death. Death isn't a thing. Life is a force which gives us everything we have, death is absence of life, death is nothing. She showed us how close life is to nothing. Because it doesn't stop or start there, in every aspect of life, crossing that ever-present line to nothing is always so close.
Some time after her birth we had a small ceremony of family and close friends, with the help of excellent local funeral directors, ARKA. It was a lovely day which couldn't have been more peaceful or tranquil. We held it at Kipling Gardens in Rottingdean, the sun shone and the birds sang as people shared words, poems and quotes for Uma.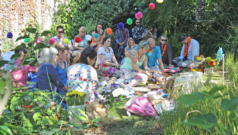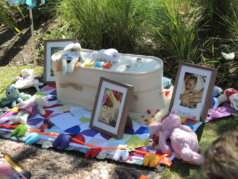 We have a memory box of things to remember her by. We kept some little locks of hair, the clothes she wore, prints of her hands and feet, toys Naomi had made for her, even the Geranium & Bergamot massage oil I'd used on Naomi's back during the labour. Naomi has some lovely memories of places that she enjoyed during the pregnancy. She shared a lovely day out with Rocco to Pooh Sticks Bridge near Uckfield which we have since visited together and now has special meaning. The Pear, for various reasons, has come to symbolise her somewhat. Naomi made a pear leaf doll of Uma and we're getting a little pear ring made (from a great local jeweller we know), so she is always with us in some way. Work bought us a lovely pear tree which is in our garden.
We had explained to Rocco that Uma died very early on - we did it first when we were still in shock at the hospital. He responded with an upset sounding "Ohhhwh.", before asking if he could watch cartoons (having young children at a time like this is very grounding, which is mostly very helpful). But he did listen, and over the weeks with more talk of what happened, slowly understood it to some degree. Death is still a concept he is coming to terms with over time. Last week in nursery he showed a solid sign that he had taken it in. The children were asked to "stand up if you have a brother or sister", at which point he asked one of the carers quietly "I had a sister but she died"; she told him it was ok and that he could stand up too.
In the weeks and months following we have been adjusting to our new, alternate future. Uma was always fine in a way. She enjoyed 9 months growing and becoming Uma in the safety of her bubble which then ended; and that's the way we've accepted it. The biggest thing to come to terms with is how our future, and what we wanted the next phase of our lives to be, has changed.
We had a post mortem, which didn't return much information but they believe she died of lack of oxygen (asphyxia), which most likely means some sort of placental failure to deliver the oxygen to her. She wouldn't have had any prolonged suffering. We have accepted this as simply being a part of life. There's no blame. Short of having hindsight, there is absolutely nothing anyone could have done.
We have felt so much love and support from friends and family, they have made the weeks that bit easier. We had many lovely cards and flowers, food hampers and vouchers - so sensible and helpful at a time when normal routine seems so far away. And our extended family at Media Molecule have simply been the best. We are so grateful for everyone's support.
I cannot stress enough how much of a brilliant job the NHS staff at Royal Sussex County Hospital did. When our midwife Marie very first met us to begin the labour she said "you are my top priority today". In my blurred thoughts at that time, I was thinking we would be the bottom priority. It immediately calmed us and made us feel welcome. She just took the best care of us, world-class service. The perfect balance of understanding us as people and dealing with the task at hand. We are forever grateful to all the staff for their experience and professionalism.
Some mornings when I wake up, I see Uma's face. For nothing but a split second, I feel the shadow of that fresh and raw love I felt when I studied her face in such detail, in that short time I had with her on September 3rd. She reminds me again of the fragility of life. And that brings with it strength. We are stronger now as a family. This tightrope of life which we all walk is made wider by the people we have around us. Our friends, our families. The kindnesses we can give to one another.
---
One of the things that we have kept hearing since Uma's death is how common it is. How many people we know who have lost babies and how little people talk about it, despite that in the UK, 1 in every 200 births is stillborn. It's the fact that people don't tend to talk about it which has encouraged me to write about my experience and to share it. To keep talking about it. And also perhaps because men are, stereotypically, less likely to talk about it.
I hope that it in some way helps awareness and encourages others to share their experiences if they feel ready.

Further information:
---